Rediscovering The Wisdom of Human Nature
In this book, I attempt to answer three questions: Why is the human soul hiding out? What does the soul know that the rational mind can never know? And, how can we access the wisdom of our souls?
Click Here for a free download.
Take Us Home, Girls!
If we follow those women depicted on the front cover, they will lead us to a spiritual home, a place where the wellbeing of those around us in more important to us than our own. Only then are our spirits free. 
We can't do it on our own. Spiritual freedom requires a spiritual home.
 Click Here for a free download.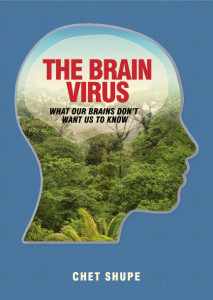 The Brain Virus—What Our Brains Don't Want Us to Know  Click Here for a free download.
Click Here to purchase a hard copy from Amazon
For the most part, happiness is about relationships. Yet, we spend our lives largely in the pursuit of wealth and privilege. When asked what they would prefer most in life—"wealth and privilege," or "to love and to be loved unconditionally"—most people choose the latter. If humans are in control of our destiny—the underlying presumption of all modern cultures—how can the very thing we want most in life seem increasingly beyond our grasp? Indeed, over half of American adults now live alone.
Humans are defined by an evolutionary process that has long established what we really want in life, which explains our desire to love and to be loved. By instinct, empathy and love well up, unbidden, from within us. The slow, inevitable process of natural selection planted these emotions inside us because, without our natural desire to take care of one another, our species could not survive the natural world. Love, empathy, and our need for close-nit interdependent relationships are the very stuff of evolutionary values. They are evidence that survival is the business of every species. And, only by serving life by taking care of one another, do our lives have real meaning.
The presumption of modern cultures is that our instincts are old fashioned, that we have outgrown our need for them. Instead of knowing love and happiness by being true to our innate feelings in our service to one another, we can succeed by denying how we really feel in order to "fit in", win approval, and "make it" in the modern world in which we now live.
But instincts can only be repressed, never gotten rid of. Consequently, only by being true to ourselves—that is, to the innate feelings with which Nature gifted us—does life feel real. This is why trying to find emotional fulfillment in societies where we must deny how we really feel in order to succeed, leaves us wondering what life is about. Deprived of the unconditional love through which we would know real fulfillment, we are reduced to finding whatever meaning we can in wealth, beliefs, goals, and dreams.
By instinct, we were born to love and be loved. To experience the depth of love for which we yearn, we need to regain our spiritual freedom by re-establishing homes in which we can be true to ourselves in our relationships with those around us—the kind of home all humans once took for granted. Then, we will no longer wonder why we are here. It isn't that love answers the question, Why am I here? Love erases the question. 
Buy the book: Eden—Regaining Our Spiritual Freedom
Download the Free PDF Version
Read the essays, "Unconditional Love," "Take Us Home Girls," "The Brain Virus – What Our Brains don't want Us to Know," and "The Nature of Happiness"
JOIN THE DISCUSSION: Comment below.