Spiritual Wealth vs. Material Wealth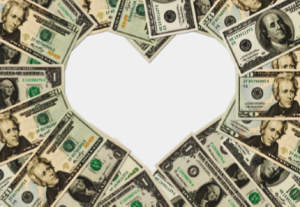 Whether a monetary system exists, or not, determines what humans think of as success. With money, success is the measure of one's material wealth. Without money, success is the measure of one's spiritual wealth. Why did humans allow such a transformation in values to happen? It's because we are virtually unaware that it has happened, much less understand how. But, before addressing that, let us consider the issue of monetary systems, in general.
As the world economic system seems on the threshold of faltering, and the rich get richer and the poor get poorer, there is increasing talk of alternative economic systems. An example can be found at http://tinyurl.com/z2wls44  Following is a paragraph taken from this website's explanation of what a cooperative economy might look like.
There would have to be fair negotiations—prices throughout the supply chain would have to be set with an eye on rational economics. Industry facilitators to assist negotiations and/or a government arbitration board to make decisions when parties are unable to agree to terms might be necessary. Community input would also be desirable, in the industries in which a given community is directly involved and for retail prices of consumer goods. It may be desirable to include these community interest in pricing negotiations directly. As more people take on more responsibility, more will gain the experience of fair negotiations, enabling more to peer over the shoulders of those involved in these decisions. In turn, more experience means more people within the community who can shoulder responsibility.
The above exemplifies the enormous degree of cooperation that would be required to manage any attempt at a rational, fair, monetary system. But, what would inspire people to cooperate? The problem with monetary systems, practiced or imagined, is that they put each individual's future wellbeing in his own hands. Idealistically, that does not defeat the argument for cooperation. But, in practice, it does destroy cooperation by creating a situation in which everyone is out for himself. Competition destroys intimacy, the most important ingredient in human spiritual life.
Cooperation also requires that people agree on simple things, such as whether the government should redistribute wealth, and if so how and to what extent. That issue has never been settled among humans, since the earliest monetary systems were established, and it ominously and painfully divides this country, today.
Dependent on money to survive, modern humans quite naturally believe in money, even love it. Having never experienced a world without money, we are unaware of how monetary systems have transformed human existence, particularly our ability to cooperate.
We don't normally think about it, but, until only a few moments ago in evolutionary time, humans did cooperate. Before institutions existed, we cooperated with one another to survive. Cooperation among multiple individuals is a complex process, but evolution gifted our massive brains with the wisdom needed to make it seamless. We humans are born to cooperate by simply being true to our feelings of the moment in our relationships with those around us. Indeed, we love cooperating as much as all the things we are good at doing. Our ability to cooperate made human survival possible. It also gave us a spiritual bonanza—the freedom to be true to ourselves and to those around us, thus to abide in a state of intimacy.
The use of money not only destroys intimacy, it literally changes our definition of what constitutes success. With money, success is the measure of our ability to purchase the things we need to survive. To the people who lived on this land, before us, success was an entirely different matter. Consider this excerpt from the book, The Soul of the Redman:
The culture and civilization of the Whiteman are essentially material; his measure of success is, How much property have I acquired for myself? The culture of the Redman is fundamentally spiritual; his measure of success is, How much service have I rendered to my people? His mode of life, his thought, his every act are given spiritual significance, approached and colored with complete realization of the spirit world.
This reveals that what humans view as success is determined by whether or not a monetary system exists. In a culture with money, success is the measure of our ability to serve self through personal wealth, on which we depend to survive. Without a monetary system, success is the measure of our ability to serve the people on whom we depend to survive. Collaboration is the coin of the natural human culture that evolution created.
As subjects of monetary systems, we may achieve wealth and privilege, but we are spiritually poor. Without money, wealth and privilege don't exist, nor does poverty, for that matter, and we are rich spiritually.
Readers may ask: Since we are all subjects of monetary systems, what's the point of informing us about how money adversely affects our spiritual existence? True, in a world owned by money, people are forced to look out primarily for themselves. But, I believe there is a way for us to again experience rich spiritual lives, despite the fact that money is in control, at least for the time being. To have rich spiritual lives, we would have to leave behind our personal monetary identities, by trusting our lives to organic human families, bonded by the need to cooperate to support each other, both materially and emotionally. The family itself, would have to have a monetary identity, to which various members would contribute. But family members without personal monetary identities would be immune to the spiritual alienation caused by money.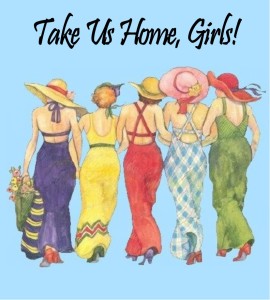 Figuratively speaking, if we follow those women pictured on the cover of my book, Take Us Home, Girls!, they will lead us, not to just a physical home, but to a spiritual home, as well.
What is a spiritual home? It is one in which we feel as one with the people around us. More significantly, it is a place where the wellbeing of those around us is more important to us than our own.
That is the test for spiritual freedom. When the wellbeing of those around us is more important to us than our own, our spirits are free. But we can't create it on our own. Spiritual freedom requires a spiritual home.
____________________
Learn more. Read my latest book, Take Us Home, Girls!
Download a free copy of Take Us Home, Girls! at Spiritual Freedom Press